Several applications have already joined in this popular dark mode bandwagon the people are drawn towards these days due to the sleep design and uber cool look. Apparently there is much more than what meets the eye about this dark mode. In this article, we will learn what dark mode is and why we should use it. And how do we use Snapchat dark mode?
What is Snapchat?
With more than 230 million users interacting on its platform daily, Snapchat is one of the most happening social multimedia messaging apps throughout the world. Originally created for one and one user interaction through photos, stickers, and augmented reality objects, it was later made it into a broadcasting platform just like WhatsApp. It is estimated that an average of more than 5 billion snapshots is shared each day.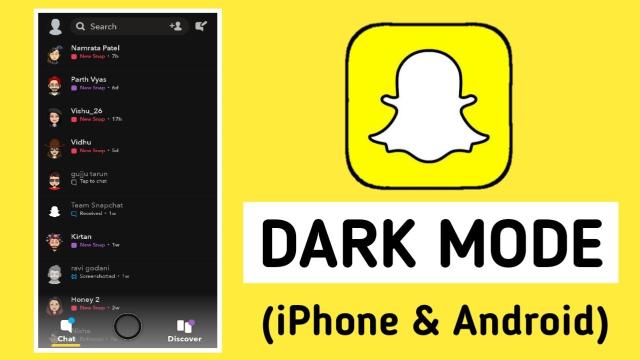 Importance of Dark mode for applications
Why do you think the dark mode is becoming a new normal these days?
As mentioned earlier several other applications are also made their way to provide dark mode on night mode to their users. It has been scientifically proven that the blue light that is emitted by the screens of your smartphones or laptops are very much harmful to your eyes. Staying awake at night and looking into screens the temp at this blue light can also cause your brain to confuse between day and night and also lead to disturbance in the daily sleep cycle. Dark mode or night mode now makes it possible for you to use your phones or any other smart device without straining your eyes in the night time.
Also compared to the normal mode dark mode uses less battery because the normal mode requires a lot of energy to light the pixels if you are using it in normal mode. This is the reason most people are using night mode in dark mode for almost all the applications so that they don't have a disturbed sleep pattern and can watch anything during the night without straining their eyes.
Snapchat dark mode
For over more than 8 years Snapchat has evolved so much, several new features were always added and the overall User experience has become better with each and every update. But unfortunately, there is no update that has incorporated dark mode or night mode as a built-in feature for Snapchat as of today. Although we are sure that Snapchat will definitely come up with this feature sooner or later we would like to inform you that there is a way you can still use Dark mode on Snapchat. All it requires is that for you to do a little trick for your smartphone. Even if you are a beginner just follow the below-given steps to use Snapchat in the dark mode in both IOS and Android phones.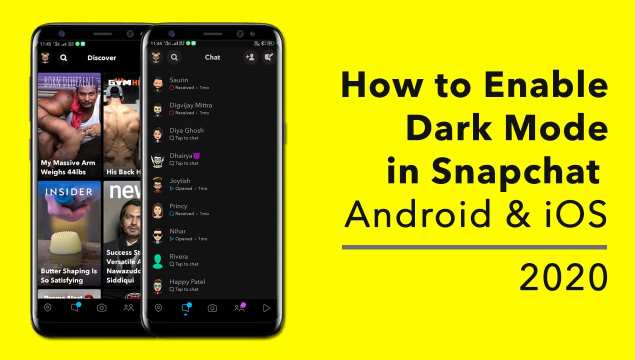 Enable dark mode/night mode on Snapchat for Android devices
As mentioned earlier Snapchat is one of the apps that will remain in its original default colors even though the entire operating system is changed to dark mode. Just like we have an application called Nightmare for iOS users, we have an application called the substratum app for Android users. The procedure to download the substratum app and used to change your Snapchat into dark mode is given below.
Note: As most of you might know, you have to enable unknown sources in your Android device in order to download something that doesn't appear on Google Play Store…
Open settings, go to security.
Scroll down until you find unknown sources and enable it.
Download the substratum app from the website and install it.
You will be asked to several permissions before the app gets installed, grant them.
Open the substratum app and select the team that you want to use.
Need to select your device and change then choose the app that you want to use dark mode and then install.
As for Snapchat is concerned there are two modes in the substratum app that will help your Snapchat turn to the dark mode
Black Swift
Swift dark
Recommended: How to enable dark mode on windows 10,8,7&xp
How to enable night mode/ dark mode on Snapchat for iOS devices
In order to turn on dark mode for Snapchat on your iPhone, iPad you will need software that is called a nightmare. We have tested this software and it is one of the best ways to install dark mode on Snapchat. This Nightmare application the interface that was released a few years ago for iOS users. However, you will need to jailbreak your iOS device so that you can download this application.
Note: There are several applications that will help to jailbreak your device with the touch of a button.
Follow the below-given steps so that you can install a nightmare on an iOS device that will help you change your Snapchat to dark mode.
How to install nightmare
Open Cydia on your iPhone.
After opening Cydia Install ifile on the device.
You will have to download the necessary Nightmare package available online.
Go to open in and select ifile.
You can extract the nightmare package by clicking on the installer.
This will take some time and install Nightmare On your iPhone.
Now I have to restart springboard for it to take effect.
The reason we have selected Nightmare for Snapchat is that the nightmare is one of the applications that evade the Snapchat built-in jailbreak detection. Using Nightmare you can customize Snapchat themes, use different color schemes.
Note: Make sure you think about this decision when you want to jailbreak your device. Jailbreaking your device will result in the lapse of your device warranty if you have any left. If detected, Snapchat can also ban from using its services from a jailbroken device.
There is another option in your iOS devices other than jailbreaking. All you have to do is follow the below-given steps
Open settings and click on general.
In the general menu, tap on accessibility.
Going to display accommodations, click on invert colors
Make most of your iPhone settings turn into dark colors; do not mistake it with the newly launched dark mode in iOS 13. This is a completely different setting and I also look very odd. Again it does depend on your personal interest.
Checkout: Dark mode for Reddit
Conclusion:
There could have been several reasons why the team Snapchat is not introducing dark mode for its uses worldwide. Pretty sure that the Snapchat team will come up with an update that will add inbuilt dark mode to Snapchat sooner or later. Until then it is up to the user to make several tweaks and get the desired look for Snapchat. Even though it's not an easy task, we are here to help you and make it hassle-free.
Thank you for going through the entire article. This has helped you get a dark theme for your Snapchat application.