Many of the people are searching for dark mode in every other application they want. This is because of the recent craze for dark colors, night mode, and dark mode for applications they have several beneficial uses. In this article, we will learn how to enable dark mode on Twitch. What are twitch and the uses of dark mode along with enabling and disabling dark mode within the website?. If you want to know more about Darkmodes visit our Homepage.
What is Twitch?
Twitch is an online video live streaming service which is mostly used to live stream games. It is a subsidiary of Amazon. Amazon acquired this in 2014 from the original developer who developed it has a spinoff of Justin.tv video around June 2011. Twitch is the biggest live streaming platform for video games. It has over 3 billion broadcasters and at least 25 million daily active user bases. As per reports, twitch more than 28000 partner channels on its platform.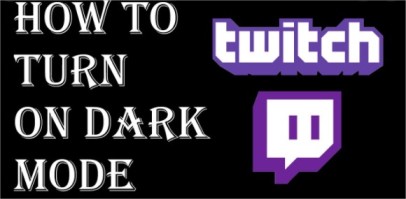 Just to give you an overview of how big Twitch is, several big gaming streamers like pew die pie use Twitch to interact with their fan base from across the world. Twitch is being used in several ways and sometimes even raises money for charities
Twitch dark mode
As recent studies have suggested the blue light that is being emitted from your screens is really harmful to your eyes and will disturb your sleep patterns. And when it comes to Gamers, talking about the game streaming platform here. We all know that game streamer spend most of the time in front of the gaming consoles and screens. With the amount of time they spend before screens daily watching the screens focused, this will definitely have a toll on my health. So these are the people who should immediately change the entire settings to dark mode.
The reason dark mode is better for Gamers is that dark mode reduces the blue light that is being emitted out of your screens and will cause less stress on your eyes. This in turn will not affect your sleep patterns when compared with playing using normal modes. Dark mode in Twitch well converts all the menu bus and the entire user interface into darker colors. Only the games we play will show true colors the rest of the interface is always dark. Now let us know how to enable dark mode or night mode on Twitch.
How to enable dark mode or night mode on Twitch for PC:
Twitch is mostly used on personal computers. So just follow the below-given procedure to turn on dark mode in any web browser of your choice.
Open any web browser of your choice and visit Twitch.tv
Click on login and enter your account credentials and if you don't have an account create one if you need it.
In the top right corner of the website, you will find a profile icon. Click on it.
After clicking the profile icon the menu bar will be showcased. The bottom part of the menu bar has a toggle on/off button for a dark theme.
Enable it and Twitch will now be available in dark mode.
You can follow the same procedure to disable it.
Enabling dark mode for Twitch Android and iOS devices:
This following procedure I will help you enable dark mode on your smartphones.
The procedure is a little similar to that of PC. But the difference is that you will have to make these changes in a dedicated to check application that you can download from Google Play Store and Apple iOS App Store.
Download the Twitch application from the play store or App store.
Open the application and login with your credentials.
You will find the profile icon on the top left corner of your device once you login.
A profile page will be displayed along with gear like an icon for settings.
Click on the settings icon to enable dark mode from the pop-up menu.
You can use the same procedure to disable the dark mode.
Recommended: How to Enable Reddit dark mode
Conclusion:
As mentioned before we personally feel that game streamers are the ones who are supposed to use dark mode for any application or game they are using. Game streamers actually entertainers with their streaming services and often forget about their well being. As we all know there were some Korean gamers who lost their life sitting before a screen playing game games without eating due to dehydration and stress.
The dark mode is one of the small ways which can help soothe the stress on the eyes and not the perfect but comparatively better environment for your eyes and health. Thank you for going to the entire article we hope that most of the questions have been answered. Enjoy your Dark mode on Twitch.