Best Funny Camera Apps for Android 2020: With the increasing demand for smartphones one can also observe that the cameras on smartphones have also been upgraded significantly. The first multimedia phones had less than one megapixels and now we are talking about close to 100 megapixels on a smartphone.
Camera applications such as funny cameras have made great progress in the following categories as they have been entertaining users along with giving them creative opportunities to work with. We have compiles a list of funny camera applications that we think are better in serving the entertainment purposes of our readers. Check out the below apps and tell us your experiences.
Funny Camera Apps for Android
Fun photo Camera:
Fun photo camera is an Android application that will help you make fun of my photos and edit them. This app contains content multiple templates that you can use. Best templates include animals' costumes and many more. This app will also I love you to set the pictures wallpapers after you added them. You will not need an Internet connection to use this app.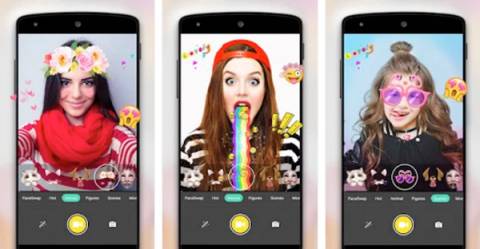 This app is available to download from the Play Store for free of cost. If you are free and want to create funny photos of yourself with different Halloween templates then this app is for you. This app contains a variety of filters; stickers add custom text can be added. All the picture templates are of HD quality. Everything you create can be directly shared on social media platforms such as WhatsApp, Facebook, Twitter, Instagram, flicker, and Skype. If you are setting up for some fun then this app is a must-have on your mobile.
Cymera:
If you are a photography enthusiast you might have already come across an app called Cymera. Experts describe this app as an alternative to the primary camera application on your smartphone. This is because this app is an integration of a camera along with the camera editor with several filters and top-notch Technology that can give it an edge over standard primary cameras. Actually cyber is much more than the funny app. Things we are talking about funny apps here. Let us only look at the funny side of the Cymera app.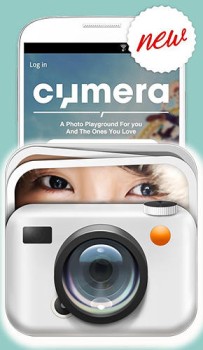 Cymera app lets you edit functions of your photos. Clipart images, stickers, and photo frames are some of the few things you can add to your photos. Bringing this all together on your photos will make them funnier and share-worthy. If you are a photo enthusiast and would like to use and application for both of its quality and its ability to perfectly edit photos, the camera is one of the best applications available for Android for you.
Funny camera:
The funny camera is one of the most hilarious Android applications that are out there. It allows the user to add a little humor to their photos. The user interface of this camera application is very easy and also it lets first-time users' visit seamlessly. It contains live camera filters, the song with more than 40 camera effects. And also contains a timer mode and you can use both your back and selfie cameras simultaneously.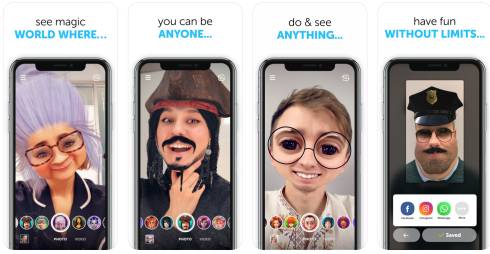 It also lets you upload your funny photos on two social media websites directly. It is mostly famous for the photo wrap features contain. Sharp chin, fisheye, mirror, happy fool, and twister are some of the filters and photo styles it has. it is best for selfies and face editing.
Face Changer:
If you want to make your photos funnier or irritate your friends by spoiling their faces and adding several comic items to the faces. We have the perfect app for you. The name of the app is called face changer and it is available on Play Store to download for free. It is one of the funniest apps on the Play Store.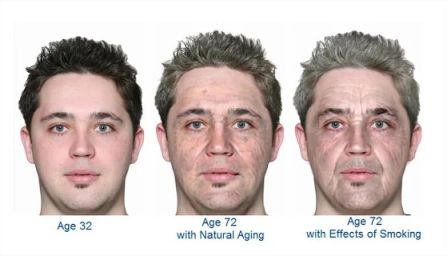 The main features of the application are its ability to replace the face parts, to smudge and warp the images, to write a text or draw on top of a photo and its ability to directly post it on social media give this app a very high and over several other application that is available in the Android market. You can make your friends bald, give them funny Eyes, animal noises, and evil ears. As a matter of fact, you can completely change their Avatar and this will turn into a hilarious photograph. It is very entertaining and a great time killer.
Mix Booth:
Mix booth is another funny application that will help you transform your images into celebrities or any bodies' image. What it actually does is takes the photo you have and the photo you want to be, merges them, and gives you the result. The results are pretty funny and social media worthy.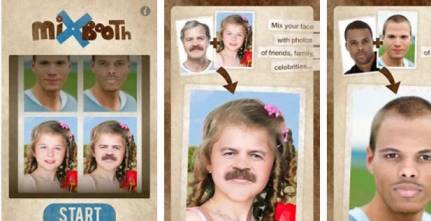 It can also take images from your social media accounts and work on them. The features such as shake the phone to merge pictures make this app unique. This app is available across the Android platform along with iOS and is available in play store free of cost. If you want to change your faces into a celebrity for some fun download this app.
Checkout: Guide to increase Battery life on Android Device
Conclusion:
Funny camera apps for Android are becoming more and more popular day by day. Their ability to amuse people and enhance their creativity having great time killer applications is one of the main reasons these after finding customer support. Most of the applications are free of cost I will also let you post your creativity on social media platforms. And most importantly all of them will make you laugh a good time with friends and family.
Would anyone want from a funny application, than to give them a good laugh? All the applications which are mentioned above have done so. I hope you find this article helpful that you enjoy this funny camera application and get a much-needed relief in your busy life.