Tips to increase Battery life on Android Device: With the evolution of smartphones, the screens have become larger and the processors have become even more advanced to provide for the growing need for evolution for the smartphone industry. Yet, the sad truth is lithium-ion batteries that are being used to power these phones have made very little to no progress when compared to the other important components of the smartphones.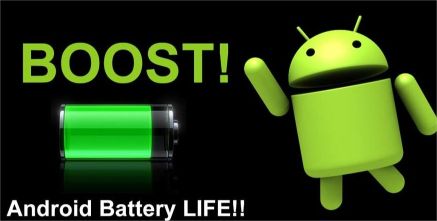 This is a real concern as the number of work smartphones are carrying out has immensely increased and batteries are struggling to power your smartphone throughout the day. So, unless you upgrade your mobile to a higher battery device, you will most certainly have to rely on a few software tactics to address this problem. Even if you have a bigger battery smartphone it is always better to follow some steps to increase your battery life so that more can be done with less.
How to Increase Battery life on Android
Most of the smartphone users over the years have been searching for several options to optimize and reduce the consumption of their batteries but we have come out with few instructions on how to carefully use your battery so that you will always have enough during times of emergency. It's no rocket science that helps optimize your battery but few timely and wise decisions on when and how to use your battery.
The following are the few tips on how to increase your battery life on Android or extend your battery level on Android devices:
Disable device connections:
Your device connections like Wi-Fi, Bluetooth, and NFC as you know are not always used. So, it is better to disable this connection when not in use as they can drain much of your battery life. You should also disable things such as Wi-Fi connections which are automatic.
And the area where there is little service available and you don't really need your phone it is better to put your phone on airplane mode. Touching your phone to airplane mode will always give it an advantage why not putting pressure on the battery. Airplane mode disables all the above factors in an instant.
Location services:
This might sound weird but one of the main culprits of draining your battery is location services. Most of the people are unaware of this and GPS signal in the mobile phones is always enabled. Its GPS services can drain your battery and they are also a security concern. So in order to increase your battery life, the best thing to do is, always disable your location services until you are using location service-specific applications such as Google Maps or any other financial service applications.
Sofa beginners crystal need your location services you can still of an option call devise only which is available from Android Oreo and earlier instead of high accuracy modes. Some of the devices also use Wi-Fi scanning and Bluetooth scanning to determine your location, they should always be turned off to optimize your battery performance.
Background apps and mobile data:
When it comes to internet options one has to take very wise decisions in order to optimize their Android battery. Both mobile data and Wi-Fi connections available it is always better to choose Wi-Fi over mobile connections mobile connection takes over 70% more power off your battery than Wi-Fi signals. Whenever you have a Wi-Fi connection available it is always recommended that you disable your mobile data connection.
The second most disturbing thing without Android mobile phones is that every other application that is on your smartphone's ability still runs in the background. Make it a habit to remove all your background applications before you lock your device. While installing any application it is required to give the application permission to run in the background. Immediately after installing the application go to the background apps section and disable background permissions to any application that is not required by you to run in the background. Settings will be available in general and advanced battery settings.
It is also important to monitor the background data usage of each and every application and restrict the permissions if needed so. This can be customized individually to every application by going into the app info checking one app data usage.
Recommended: How to Speed Up Your Android device
Dark and silent:
In order to optimize your battery life, it is always better to use your mobile phone in a dark mode. This means the screen doesn't have to write up each and every time at every place. This, in turn, saves the battery.
Always enable auto-brightness so that your brightness is optimized based on your ambient lighting. Brightness is always taken too much of battery it is better to manage brightness automatically. Simple settings such as minimum Screen timeout and the blue light filter will have a free huge impact on your battery life are there associated with screen usage time. Always keep your Screen timeout equal to or less than 1 minute of inactivity.
Whenever you are not using your phone do not want your phone to disturb you always keep it in silent mode. At frequent notification sound and vibrations are bad for your battery life. It is always recommended to keep your mobile phones in silent mode or airplane mode whenever you are sure that you do not want to answer or take any calls. Since it is clearly evident that big smartphone screens and higher volumes are not so great for your battery life.
If you want to know why your Android is slow just click here
Wallpapers, widgets, and Rogue applications:
As mentioned earlier huge screens and fancy wallpapers such as live wallpapers are not so good for your battery life. Always ditch live wallpapers when you think your battery is more important. Also, widgets take a lot of battery life so make sure to remove every widget that you do not need.
If you notice changes in your battery life after installing a new application then You should immediately realize that this application is the culprit and immediately get rid of it and look for an alternative that is good with your battery. A monitored 1 or 2 rogue applications damage your battery life for the rest of its cycles.
Battery saving mode, rooting your device:
Most popular Android mobile phones today come with battery saving mode. This mode is specifically designed so that it doesn't use much of your battery on unnecessary connections and useless software. Always disable auto-updates show that the system doesn't have to check foreign updates each and every time and that in turn saves a lot of battery.
If you want to have a more hands-on Optimisation experience of your battery you can always try to root your Android device. Rooting helps you to play with the restrictions and allows you to remove several pre-installed software services that waste a lot of your precious battery life. While rooting is not really recommended to each and everyone but only two people you know what they are doing with their smartphone or who are willing to try something new with their smartphone.
Checkout: Latest Best meme Generator Apps for Android, iOS & Pc
Conclusion:
In the near future, there is a hope that new AA batteries will get introduced which does not need much space in your ever-decreasing smartphone thickness. But until that happens, sun matter which capacity your battery is off you should always Resort to the above factors to increase your battery life.
There are also several applications in the market that optimize your battery life for you and their own battery consumption is a debatable topic. It is always better to manually adjust everything as mentioned above so that you enjoy optimized battery usage and longer battery life. I hope this helps most of your problems with your mobile phone batteries like How to Increase Battery life on Android are solved. Hope to see you soon with new articles. Thank you.